Free download. Book file PDF easily for everyone and every device. You can download and read online Urban Youth and School Pushout: Gateways, Get-aways, and the GED (Critical Youth Studies) file PDF Book only if you are registered here. And also you can download or read online all Book PDF file that related with Urban Youth and School Pushout: Gateways, Get-aways, and the GED (Critical Youth Studies) book. Happy reading Urban Youth and School Pushout: Gateways, Get-aways, and the GED (Critical Youth Studies) Bookeveryone. Download file Free Book PDF Urban Youth and School Pushout: Gateways, Get-aways, and the GED (Critical Youth Studies) at Complete PDF Library. This Book have some digital formats such us :paperbook, ebook, kindle, epub, fb2 and another formats. Here is The CompletePDF Book Library. It's free to register here to get Book file PDF Urban Youth and School Pushout: Gateways, Get-aways, and the GED (Critical Youth Studies) Pocket Guide.
Porfilio Eds. A glossary of haunting. Jones, T. Ellis Eds. Locating the hope in bone-deep participation. Lake Eds. Rotterdam, Netherlands: Sense Publishers. Scientifically based research and settler coloniality: An ethical framework of decolonial participatory action research.
M Kress, C. Making school more meaningful: Perspectives on the purposes of schooling from an Alaska Native context. View, D. Earley Eds. Voices from the United States and Canada pp. PAR praxes for now and future change: The collective of researchers on educational disappointment and desire. Fine Eds. Fine, M. Do You Believe in Geneva? Methods and ethics at the global local nexus. Denzin, Y. Smith Eds. Giardina Eds. McCarthy, A. Durham, L. Engel, A. Filmer, M. Malagreca Eds.
Eve Tuck | University of Toronto - ijokesygym.tk
Not nowhere: Collaborating on selfsame land. Wicazo Sa Review, 25 2 , Encyclopedia entries Tuck, E. Banks Ed. Mathison and E. Ross Eds. Westport, CT: Greenwood Press. White Papers Research reports written for community readers Tuck, E. Beyond dispossession, or surviving it. In progress Tuck, E. Anticipated Settler colonialism and urban education. Routledge: New York, NY. Decolonizing our theories of change. Theorizing settler colonialism and antiblackness on selfsame land. Pathways for research in making social change. More than that: Research and Indigenous peoples.
Ethical research at the intersection of decolonizing theories and brown feminist theories: When knowing is not enough and settler colonialism is too much. Youth Participatory Action Research and urban schools. Inner angles: Indigenous models of truth. Do you believe in Geneva? Refereed Tuck, E.
Urban education, settler colonialism and antiblackness. Exasperation and contingency: Bypassing the question of settler futurities in theories of decolonization. Epistemic room: The role of refusal in collaborative community-based research.
1st Edition
A Turn to where we already were? Indigenous philosophy and the ontological turn. Decolonizing our schools is not a metaphor: Challenges for educators and educational researchers. Research can be a dirty word: Settler colonialism and a methodology of refusal. School pushout and the GED: Valuing the alternative to a high school diploma.
Urban Youth and School Pushout: Gateways, Get-aways, and the GED (Critical Youth Studies)
Repatriating the Search: Notes on the politics of tribal and urban research. Beyond social location: Multicultural education, Indigenous peoples, and epistemological diversity. Colonial fetishes in a flat World: Damage-centered and desire based research. Land and ways of being. Special, viable, and thriving: Notes on Indigenous educational sovereignty.
A pedagogy of withholding. Breaking Up with Deleuze: Desire and valuing the irreconcilable. Theorizing insynchronicity: The postcolonial and decolonial, and a methodology of repatriation. Damage, desire, repatriation, hope. Refusing Damage: Responsibilities for anthropologists in a new ethnographic moment. Dangerous Dignity: Beyond resistance toward repatriation of schooling. Border metaphors: Bodies and bridges. Participatory Action Research as a methodology of repatriation. Suspending damage. In the PARticulars. April, Researching back: Design that refuses to speak against ourselves.
Meritocracy and desire: Youth theorize the GED. Inner angles: Alter-Native perspectives on urban schooling. Youth PARticipatory policy analysis. Strategies and implications of PAR among youth. Paper presentation at the annual conference of the National Indian Education Association. Anchorage, AK. Unschooling ethnography: Approaches to participatory ethnography with youth GEDers. Planting a problem tree: Rooting ourselves in critical pedagogy.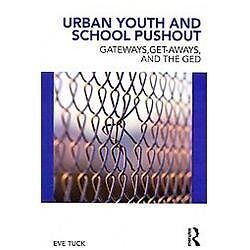 Invited Tuck, E. New materialisms and Indigenous social thought. Urban youth and school pushout. Research as repatriation. The Cult of Efficiency. Janice Gross Stein. Criminology: A Career Guide. Kenneth Park. Politics in Time. Paul Pierson. Economic Lives. Viviana A. Sharan B. Caring Democracy. Joan C. The Handbook of Race and Adult Education. Vanessa Sheared. Media and Development. Martin Scott. Law and the Search for Community. Joel F. Mediating Interpersonal and Small Group Conflict. Cheryl A. The Handbook of Economic Sociology. Richard Swedberg. Human Capitalism. Brink Lindsey.
Disciplining the Poor. Joe Soss. Missing Class. Betsy Leondar-Wright. Women, Work, and Globalization. Bahira Sherif Trask. Transformative Leadership in Education. Carolyn M. Unequal By Design. Wayne Au. Education and Racism. Zeus Leonardo. The Schooled Society. David Baker. Understanding the Social Dimension of Sustainability. Jesse Dillard. The Still Divided Academy.
Stanley Rothman. Social Stratification. David B. Inequality in the 21st Century. David Grusky. Revolutionizing Education. Julio Cammarota. Advocacy Leadership. Gary L. Social Work and Migration. Kathleen Valtonen. Teaching for Democracy in an Age of Economic Disparity. Cory Wright-Maley. The Value of Homelessness. Craig Willse. Natalia Sarkisian.
What is Kobo Super Points?.
Littérature et spiritualité en Bretagne (Espaces Littéraires) (French Edition);
Urban Youth and School Pushout: Gateways, Get-Aways, and the GED by Eve Tuck?
Education in a New Society. Jal Mehta. Thinking about Schools. Eleanor Blair Hilty. Ain't No Trust.
Urban Youth and School Pushout: Gateways, Get-Aways, and the GED by Eve Tuck
Judith Levine. Reaching and Teaching Students in Poverty. Paul C. The Aid Triangle. Malcolm MacLachlan. Education Reform and Social Change. Catherine E. Practice What You Teach. Bree Picower. Patterns of Protest. Catherine Corrigall-Brown. More Courageous Conversations About Race. Glenn E. High Stakes Education. Pauline Lipman. Theory for the Working Sociologist. Fabio Rojas. Organizational Literacy for Educators. Jason Earle. Socializing Care. Maurice Hamington.
The Possibility of Popular Justice. Sally Engle Merry.
Teacher Education for Democracy and Social Justice. David Keiser Lee. Human Capital in Gender and Development. Sydney Calkin. Advancing Social Justice. Tracy Davis. The Undeserving Rich. Professor Leslie McCall. Cultivating Inquiry-Driven Learners. Clifton Conrad. The Economist's Oath. George F. Educating Activist Allies. Katy M.
Challenging Social Work. Catherine McDonald. Race, Ethnicity, and Multiculturalism. Peter Hall. Gender and Social Capital. Brenda O'Neill.